VR3000
Posted on: May 7th, 2020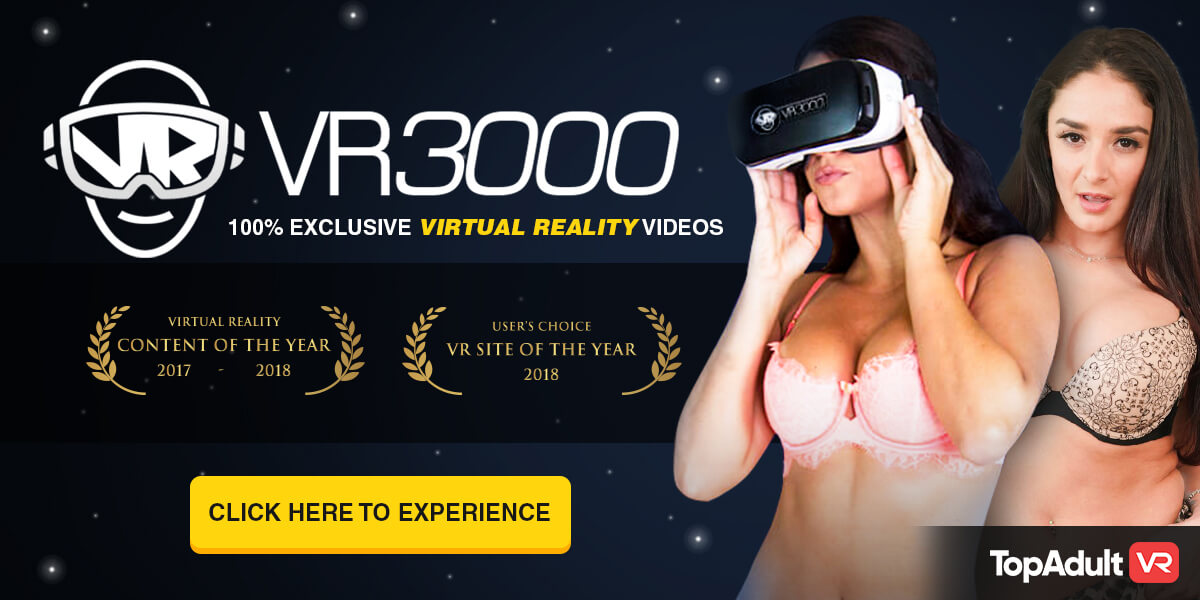 8.7

/10

Our Rating

75

+

Videos

55

+

Models
$29.99
Exclusive Discount Rate
Join VR3000 Now
Virtual reality porn fans often overlook VR3000 as a contender, but in addition to their own content, they've also integrated an assortment of traditional HD porn clips to sweeten the deal. At this site, you'll find virtual sex with a few big names like Anastasia Knight, Vanna Bardot, Morgan Lee and more. Most scenes depict POV-style one-on-one sex or give viewers a fun solo scene as a cutie indulges with her favorite sex toy. Some VR titles at VR3000 are downright zany as these folks are also known for experimenting with cosplay and parody scenes too.
Overall VR Experience
Right away, VR3000 tries to dazzle you with a glitzy, futuristic look but you'll find their navigation and VR scene options are comparable to other producers in the space. They've been able to gather some notable talent in their roster and they've become known for their solo girl scenes and one-on-one hardcore productions too. These folks also focus exclusively on recording 180 degrees.
Upon entering a typical VR3000 scene, the viewer will notice a fairly consistent use of scale and room size. Scenes are brightly lit to showcase performers from all angles. For select solo scenes, sex toys and dildos are often placed center to simulate the positioning of a male performer as production crews try to make use of the 180-degree space.
Many titles found at VR3000 come with a unique and playful twist. Browsing titles for most recent VR releases showcase several fun parody scenes and more. Overall navigation is simple and generally easy-to-use while individual video pages contain trailers, photo sets, and other applicable details.
Technical Details
Virtual reality productions at VR3000 can be viewed by download or by using their streaming video player. Scenes typically have a runtime of just under 30 minutes to over 45 minutes in some cases and the downloadable file sizes increase accordingly. Virtual videos in their collection are available in 60fps and utilize precision head tracking and rich binaural audio.
Star Power/Release Schedule
The star power found at VR3000 is a mixed bag of notable stars and new performers to the industry. Some found within their VR Pornstars bio pages are webcam performers and international or European sex performers. Overall, there's a decent selection of body types and personalities to select from and regular updates keep their library relatively fresh.
Available Platforms
Content at VR3000 is compatible with most VR headsets. You can use your Oculus, Smartphone, PlayStation VR or Mixed Reality headset to view their 3D scenes as intended.
Is VR3000 in Your Future?
Don't let the hilariously quaint and outdated yet futuristic name fool you, VR3000 contains a substantial amount of adult VR content to enjoy. With a regular release schedule and an additional bonus of thousands of traditional HD porn videos, VR3000 has more bang for your buck than you may expect. Priced a little on the higher end for VR porn sites of its caliber, you can get monthly access for about $19.99. There are three-month and yearly pricing options that reduce the cost to roughly $13 and just under $7 respectively. What you end up paying for here is the extra dash of zany in their VR scenes plus the archive of traditional HD porn.
Join VR3000 Now
All headsets supported
Smartphone

Valve Index

Daydream View

Samsung Gear VR

Oculus

HTC Vive

Playstation VR