WankzVR
Posted on: March 26th, 2020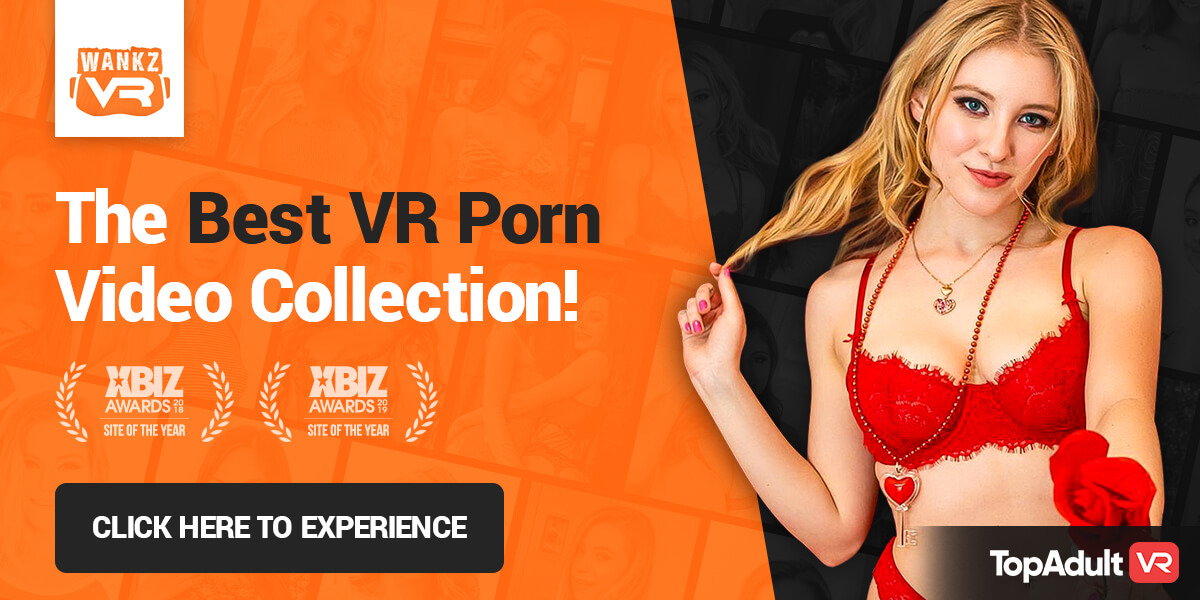 9.8

/10

Our Rating

420

+

Videos

240

+

Models
$19.90
Exclusive Discount Rate
Join WankzVR Now
Jerking off, flogging the bishop, polishing the rocket, it will all feel brand new again with virtual reality porn to get you going. The newest, and most entertaining way to experience the new immersive VR experience, VR porn is making waves with some truly mind-blowing new tech.
To see for ourselves why VR porn is making such headlines we went to WANKZVR.COM, an award-winning maker of VR adult scenes to see what the buzz was all about, and it felt like we had lost our virginity all over again!
Overall VR Experience
Strap on the headset and pick a video, there are more than enough to find something to suit your taste; as of this review WankzVR had 134 full length features to choose from. We decided to start out with Model Misbehavior, featuring Elena Koshka and Nina North, after all we might as well shoot for the stars since threesomes are not exactly landing in our lap in everyday life, something they literally do in Model Misbehavior.
With the headset on you can look down and see what we assume is an exact replica of our ripped torso and giant man meat, but look up and it's two beauties that are larger than life and right in your face. The experience is exactly what we've been waiting for, far superior to a screen and keyboard, these girls are close enough to touch and the experience feels like you're in the room with them, all from a first-person perspective that takes the POV genre to a new level. You'll want to reach out and touch, but of course your arms aren't going to grab anything, so it's like you can have your cake, you just can't eat it. Still, Elena and Nina are right in front of us, and on top of us, and the experience is well worth it even if we can't reach out and touch them.
After Model Misbehavior, we decided a second scene was in order to ensure that our experience wasn't a one-off fluke and settled on Full Body Bailey with Bailey Brooke. A hot blonde that's apparently well known for her full body massages, she oiled up and quickly got about massaging our manhood while she delivered an experience that definitely stood up to the first scene we watched.
Technical Details
WankzVR sure doesn't skimp on any of the technical aspects, ensuring that the scenes are seamless. They're all shot in 180 degrees, because frankly there's no need to be able to turn around and see the wall behind you when the action is all in your lap. With 180 degrees of freedom you can look up, down, right, and left, all while using advanced head tracking that ensures that everything that happens is in relation to your perspective.
Adding to the immersive experience is the use of binaural sound, designed to give you a full 360-degree audio experience that replicates how human ears are meant to hear, so actresses sound like they're in the same room with you.
Star Power/Release Schedule
It's an actual bevy of beauties on WankzVR where you'll see more established stars like Chloe Scott, Nina North, Anya Olsen, Haley Reed, Lily Adams, and Stella Cox alongside newcomers like Adria Rae and Alex Ray.
One of the first adult sites to have their own contract models, WankzVR has recently signed Adria Rae and Gina Valentia, two sensational newcomers that are ready to make a splash in the VR world.
There are two new scenes every week from WankzVR, a faster release schedule than any of the other VR sites that we'll be looking at in coming reviews, and that leads to a rather impressive catalogue that's already more than 100 scenes large. Keep in mind that these aren't short, 5 minute forays into VR, but rather all full-length movies that are often more than an hour in length, making the tight release schedule even more impressive.
Available Platforms
WankzVR has ensured that almost anyone with access to a VR headset can enjoy their content and currently you'll be able to watch it with any android-based smartphone headset like Google Cardboard or Samsung's Gear VR, but they're also made it available for the Oculus Rift, HTC Vive, and PlayStation VR. And whether you download the content or stream it directly to your phone, the VR is seamless and fully immersive.
Does WankzVR Make the Cut?
Not only does it make the cut, it might just be setting the standard for what VR porn should be, and has even been recognized by adult industry leaders XBIZ and AVN with top awards for their scenes.Overall we found WankzVR extremely immersive with excellent head tracking and superior sound. The videos we watched, and let's be honest, we watched way more than the two we mentioned, were ones that we would come back to and watch again. The scenes were impressively lengthy and without filler, giving us more bang for our buck.
And if you're up for a truly unique perspective try out their short Female POV videos where you the ladies can get in on the action too, or you can see what it's like for the ladies when you get busy!
Join WankzVR Now
All headsets supported
Smartphone

Valve Index

Daydream View

Samsung Gear VR

Oculus

HTC Vive

Playstation VR